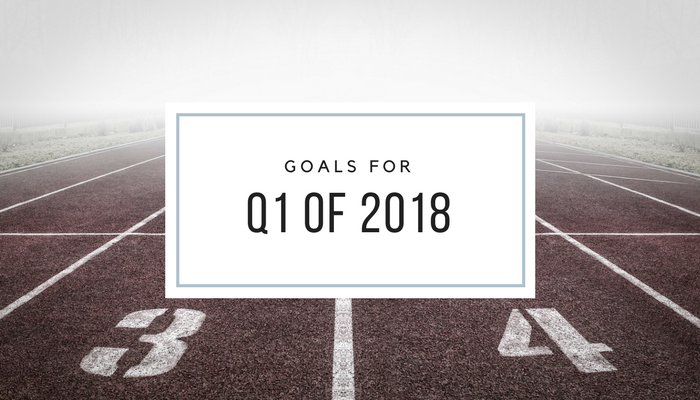 Goals for Q1 of 2018
Goals for Q1 of 2018
I had planned on posting these earlier, but in my first draft I was overly ambitious and planned out my entire year, just as I usually do. Considering that doesn't seem to work all that well, I decided to try something different this year. And when my friend Cadi decided to go with quarterly goals, I decided to do the same. Makes a lot more sense, and it gives me the opportunity to change my focus throughout the year if something doesn't seem to go according to plan.
Of course, having decided on the timeframe for my goals, I had to take the list of all the things I want to do this year (titled Goal List of DOOM in my Bullet Journal of course), and narrow it down to the things I wanted to focus on first. Some were pretty obvious, and some surprised me a little.
Here are my goals for the first quarter of 2018:
#1 – Editing TAO
This one is the obvious one. My main focus this year will be finishing the next draft of TAO, so setting an editing goal was a no-brainer. Previously I've had goals that were pretty much just finish editing, or edit so-and-so many chapters a month. It never seems to work the way I want though. So this time, I'll try something different. I'll set an editing goal that is time-based.
I have two goals. My minimum goal, and my dream goal. The minimum is exactly what you think it is, it is the minimum amount of time spent editing each month. My dream goal is what I wish I could do, but realistically don't think I'll be able to.
Minimum goal: 1 hour per week.
Dream goal: 2,5 hours per week
How many chapters I'll get through is impossible to tell, as some of them need  lot more work than others. But if nothing else, spending time editing each week will lead to progress, even if it might not be as much as I normally would aim for.
I'll be tracing my progress in my Bullet Journal, so I can keep myself accountable.
#2 – Worldbuilding for the fantasy series
I've been working on this for ages, but like with everything else, I'm not making as much progress as I would have liked. So with editing TAO, I am making this a time-based goal. My hope it what I will be able to finally make enough progress that I can think about getting started on the re-write of the first book in the series – Echoes – later this year.
Once again, I have a minimum goal, and a dream goal.
Minimum goal: 1/2 hour each week
Dream goal: 1 hour each week
I know this doesn't sound like much, and I really wanted to set aside more time for this, I also need these goals to be realistic. And that is as much time as I can realistically see myself spending on this per week right now. Hopefully, I'll be closer to the dream goal, but only time will tell. I'll be tracking this in my Bullet Journal as well.
#3 – Write the 1st query for TAO
This is something I've been taking with Cadi about doing for ages. So this year we decided that we are both going to write the query before the end of March. I'm sure it'll be rewritten many times before I eventually start sending it out, but I imagine it will be a good help when it comes to editing the story as well. And considering how important a great query letter is, I know I will need to practice writing one well before I actually plan on sending it in. Though, my hope is that sending it might just end up being another 2018 goal. We'll see what happens after the summer I guess.
#4 – Rough Outline for Unleashed
The Remnants sequel is already taking shape in my head, so I want to take advantage of that. This won't be a time-based goal though. I'm not expecting to have a detailed outline ready, that usually only happens once I start writing anyway. My goal is to have the rough outline finished, so I have a firm foundation once I actually start writing on this. It will also allow me to add more detailed parts to the outline when they pop up in my head, so I'm not depending on trying to remember where I put that piece of paper with the awesome idea on it once I start writing.
That's it. Four goals. None of them are overwhelming, and all of them should be totally doable. I have to admit, three days into this week, I still haven't started on any of them, but I still have time, so I'm not worried yet. And because it might not be obvious, for me the week starts on Mondays. So if I am ever behind at the end of the week, I can rely on Sundays for catching up.